Waking up at the crack of noon we went for a day time reckie. The site is on land owned by descendents of James Watt, the steam engine bloke. Apparently they have the honour of being heirs to the title Lord Watt of Wye. The site is at the bottom of a beautiful valley, has the A470 and Doldowlod Hall on one side, with the River Wye bordering the other side of the site.
In between is beautiful flat lush grass land with some magnificent ancient trees dotted around the site.
For this weekend the trees are complimented by several stages, a bar, several small cafes, a craft area, a small market space, kids area, circus area, the deliberately trippy psychonaut tent and the obligatory dance tent. Scattered around this are random acts of beauty, in the shape a variety of sculptures.
At night the whole area takes on a new persona, with the trees being lit up, lazers turning the surrounding mountains into ever changing works of art and constantly changing projections are – erm – projected onto the house itself.
It is difficult to work out if the 'Buskers Stage' was actually being managed in any way. There appeared to be a constant jam session going on with people wandering into and out of the band at will. People who had been staggering around the site all weekend giving the impression of being 'tired and emotional' (or as Cosmo put it, 'wreckheads') seemed to suddenly discover the gift of the gob and get up to indulge in some pretty decent rapping and beat boxing. Some of it clearly well thought out and previously constructed thoughts, some of it random and on occasion hilarious ad-libs.
At all times it was right-on 'conscious' and progressive rap and hip hop, with not even a hint at the gangsta rap that so often dominates the main stream.
Our old mate Les Earthdoctor was spotted lugging his twelve inches across the field, along with a box of vinyl. He had the unenviable task of trying to fill up an otherwise empty dance tent during day light. Never an easy task. His tribal house did not quite have the cheesy quavers doing big box little box, but there were some hippies shaking their hips and a few broad grins brightening up the dome.
Les did take five minutes out to sit by the river with us and chat about Free Rotation. Whilst the Free Rotation crew are curating the dance tent at Landed, they also run their own festival in Baskerville Hall, Hay on Wye. An event so popular they have to have a lottery for tickets.
We then got ourselves geared up ready for the Saturday night, which was promising to be a blinder. Kicking off we had the Upbeat Sneakers, an eight piece ska band featuring youngsters from Merthyr Tydfil.
Not sure about sneakers, but the band are definitely upbeat. Given the band is made up of members between thirteen and nineteen years of age, we could patronise them and say they are good musicians for their age. We aint going to say that though, 'cos they are good musicians, no matter what age we are talking about. What we will say though, is that if they can produce a sound like this at their age they have a bright future ahead of them. Very bright indeed.
Pumping out lively ska with a solid brass section giving them an extra dimension, they instantly had the crowd warmed up for the evening.
The main stage tent was set up with a large stage at the one end and a smaller 'bar stage' at the other. Everything was set up so that when one band came off, another would some on at the other end of the tent, with no gap between. However, after the Sneakers we headed out to check out the rest of the site before returning for The Chalk Outlines on the main stage.
West Wales' Chalk Outlines are a little bit older than the Sneakers. Drummer Russell was formerly in Ska Punk outfit Bhang II Rites, who played gigs for us when Peppermint Iguana were promoting gigs twenty years ago. But they still have all the energy and vitality of teenagers. No ska punk this time, just pure brass driven ska that once again had the tent shaking.
The unseasonal weather had probably put a lot of people off coming to this year's landed, but what it did mean was those that had made the effort were pretty hardcore party heads and by this time most of them were crowded into the big tent to keep warm and skanking to the Outlines generating their own heat.
Also on the main stage we had the wonderful Undercover Hippy with his upbeat conscious vibe. Last time we caught him he was performing solo, but these days he generally goes out with a full band.
Mixing soul reggae and – well just – as his website states "Combining intelligent, provocative lyrics with dangerously catchy hooks and a feel good groove" – and we aint going to argue with that. The crowd were provoked, smiled and danced.
After another brief wander, next up on the big stage were the Vegetable Collective.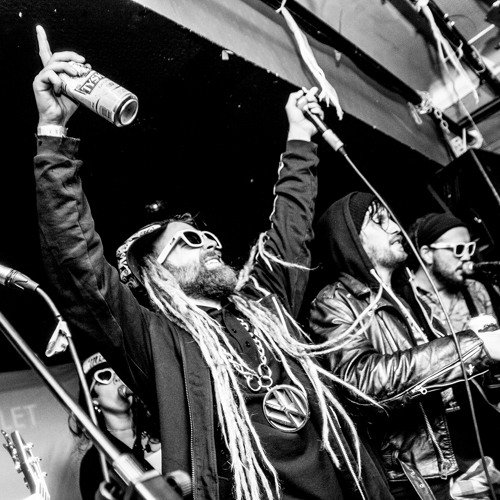 We like bands that cannot be put in a pigeonhole – and the pigeonhole that Vegetable Collective fit into is a long way from being built. Mixing ska, hip hop, funk, punk, dub and rap they take the already sweaty crowd by the scruff of the neck and shake them till they rattle and roll, skank and pogo and just go wild. With songs about potatoes and noise complaints, wacky stage outfits and a megaphone to distort vocals, they were a sight to behold.
Never heard of the Vegetable Collective before? Don't worry, you will.
Winding up the night, DJ Freear (AKA Slamboree) took to the bar stage to pump out some live beats and grooves that had the ravers giving it 95% – until Landed's resident unicorn hearder, Ady, encouraged everyone up on to the stage and give it 110%.
From that point on it was difficult to keep tabs on what was going on, it was just one big mental mash up with grins from one end of the tent to the other.
We vaguely recall wandering back into the Verbal Melodies tent to catch everyone jumping to an unlikely acoustic jam featuring bongos, guitar and saxophone. It sounded like a fire in a pet shop but that did not stop the whole tent bouncing up and down. To be honest, at what point in the evening this happened is a blur. As was the hour spent around the campfire talking about organic plant pots and digital camera lenses.
Eventually, it was back to the fridge for a sleep.